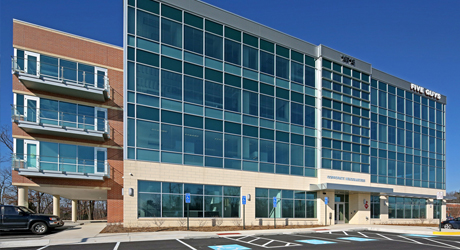 GCC Building 3
View Flyer (PDF)
10718 Richmond Highway, Lorton, VA 22079
FOR SALE OR LEASE
Property Features:
Headquarters-caliber Finishes: Offering balconies with river views, covered parking spaces, premier signage opportunities, and award-winning sustainability features (LEED Silver), the Property is ideal for a headquarters use.
Design Flexibility and Efficiency: The building is extremely flexible, offering 28' x 30' column spacing, 12,000 square-foot floor plates and minimum 10' finished ceiling heights throughout.
Tenant Utilization: Five Guys has invested heavily in the space to fulfill its vision for its global headquarters. The space contains all of the corporate executives, a state-of-the-art conference and training facility, collaborative "coffee house" meeting areas, corner balconies overlooking the beautiful Occoquan River, and a corporate-themed first floor reception lounge.
Location Features:
Gunston Commerce Center: Approximately 800,000 square foot amenitized office/flex/warehouse park with on-site food service which is home to prominent government contractors, federal government agenices, and private sector tenants.
Superior Transportation Access: Situated on Rt. 1, with direct access to I-95, I-395, and I-495 (The Capital Beltway) and the region's airports. Gunston Commerce Center also offers free shuttle service to Virginia Railway Express (VRE).
Proximate to Perpetual Demand Drivers: The asset is ideally situated in the midst of the region's largest perpetual demand drivers; the Property is just 5 miles from the NGA and Fort Belvoir, and 10 minutes drive from Marine Corps Base Quantico.
Outstanding Prominence and Visibility: Situated astride Interstate 95 and Route 1, the Property is viewed by over 215,000 vehicles daily.